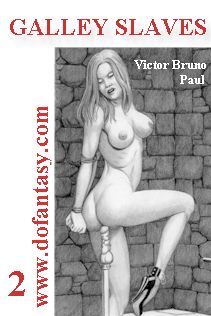 By Victor Bruno. Illustrated by Paul. PDF format. Previously published as 'Captives Afloat'

In ENGLISH. Available electronically in PDF format. See bottom of page

Gavin has a boat, cruising the canals of England, enjoying the peaceful countryside and the solitude. His captive, Karen, is not so fortunate having forced through pain and suffering to succumb to Gavin's perverted will. Karen, most definitely, is not having a good time!

Things get worse when Gavin tires of her and abducts beautiful Trudi, putting his new slave through the same awful training which had cowed an enslaved poor Karen, only this time with Karen's enforced assistance!
This book is 'a masterpiece of slavegirl humiliation and forced sex'

A short while later, both girls knelt before Gavin who, still rampant, lay back on the couch.
"Now, Karen," he said, "I want you to demonstrate to Trudi, the proper way to lick my prick. Pay careful attention, Trudi." He saw the features dissolving in a quivering spasm; saw the mouth loose and uncontrolled. "Because, soon, you'll be doing it." A horrible, despairing cry filled the cabin.
Karen came down on to her hands and knees and crawled forward. She placed a hand on each of Gavin's parted thighs, then lowered her head, protruding her tongue. It impinged at the base of the root, then made its way slowly up the length until the big knob was reached. This was licked several times before Karen lowered her head ... and repeated the performance.
Gavin smiled at Trudi's distraught features. "You see," he said, "it's not at all difficult." Trudi's mouth wobbled out of control.
Karen went on licking with zealous application and Gavin's solid erection quivered and jerked under her skilful attentions. This is what women were made for, thought Gavin happily. To serve and to please. Totally.
"That will do, slave," he said after a little while. Normally, at this stage, he had Karen suck him and that thought was getting just a little too exciting. She would suck him, but later, after young Trudi had titillated him some more. Karen retreated and knelt submissively erect. Gavin crooked his little finger at Trudi. "Crawl here, my little beauty," he said. Those lovely breasts began to heave with despairing sobs, her head twisted from side to side, as if in denial. But Trudi knew she would have to do what this monster was demanding ... or suffer beyond all bearing.
This edition is completely new and illustrated by Dofantasy artist Paul.