Use our On-Line 100% Secure Encrypted Shopping Cart Ordering System. Simply browse
our site and Click the ADD TO SHOPPING CART buttons to place items in your Shopping Cart
[ HOME ] [ COMICS ] [ MOVIES ] [ NOVELS ] [ CD-ROM ] [ Order info ] [ Help ] [ ARTIST SITES ] [ SEARCH ]
[ Disclaimer ] [ CATALOGUE ] [ Copyright ]
FANSADOX COLLECTION 471
THE PROTO part 2 - FERRES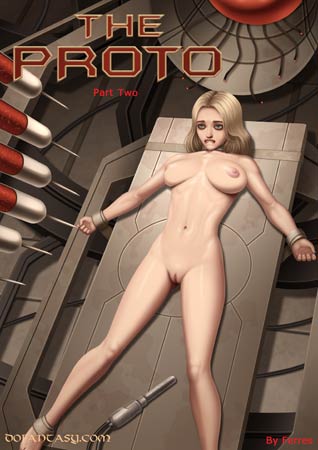 NEW IN PDF ELECTRONIC VERSION!
Adult Comic Album by FERRES.
HIGH RESOLUTION PDF deluxe edition
46 full color comic pages! plus 4 incredible illustrations!
-COMPLETE, UNABRIDGED VERSION-

THE MYSTERY OF THE PROTOS DEEPENS IN THIS THRILLING CONTINUATION OF FERRES' HOT AND HEAVY SPACE OPERA SAGA!

THERE IS PLENTY OF FEMALE SUFFERING TO GO AROUND IN THIS HELLISH UNIVERSE OF HORRORS. THE QUESTION REALLY IS… WHO WILL SUFFER THE MOST BEFORE THE END?

IMPORTANT NOTICE - DISCLAIMER
All characters are 18 years old or older.
This is an entirely fictional work based on
cartoon characters for adult entertainment.
It shows no real people or events.
The characters are shown participating in
CONSENSUAL role-play for their own
personal satisfaction, simulating activities
which involve sexual dominance and
submission. No actual toons were harmed
in the making of this comic.

The world of the future is a dark and dismal place. Captain Rothe Karl, a "proto human" from Earth, is struggling to survive on the fringes of space. Chased by the Yeetran military and trying to earn his way out, he finds himself on the very cusp of an awful revelation cresting and about to spill over into an unsuspecting galaxy…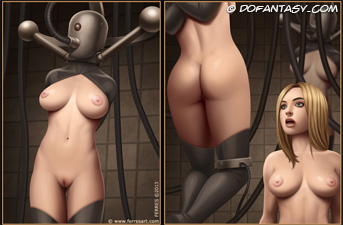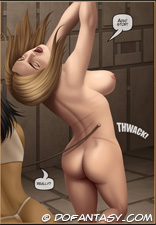 Commander Lhuun has finally made contact with this mysterious Rothe Karl, and she has important information to convey. Unfortunately for her, she can barely remember it… the mass transfer system completely scrambled her memory, and this was even assuming Rothe Karl wanted to hear what the lithe and lovely Lhuun had to say to begin with! A man used to being chased by the beautiful, female assassions of the Yeetran empire has little patience for any girl playing coy and dumb… he's had too many knife points against his back to trust another.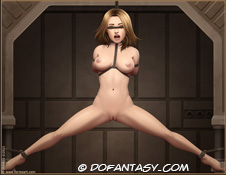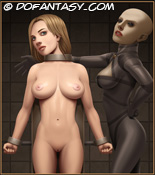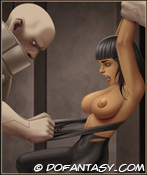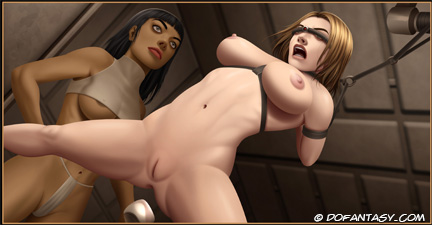 Meanwhile, the crew of the Zola find themselves drawn even deeper and deeper into a mysterious and dangerous force seeking to regain control of galaxy. Commissar Natis will find out what happened to her all-female, Yeetrian crew of the Zola… and she will not be pleased at the horrors she will witness, some of them firsthand…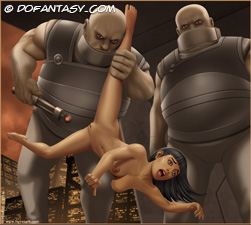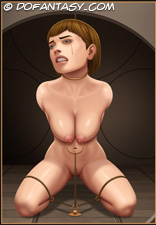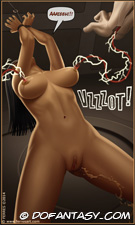 FERRES IS A MASTER OF THE CRAFT AND PAINTS A LAVISH AND RICHLY DETAILED WORLD FULL OF DRAMA AND INTRIGUE AND, OF COURSE, HOT, HOT ACTION! THE FATE OF THE ZOLA CREW WILL SHOCK EVEN THE MOST HARDENED HEART, AND YOU WON'T BELIEVE WHAT THESE GIRLS WILL SUFFER AT THE HANDS OF THEIR SINISTER CAPTORS! EPIC EVENTS ARE SET IN MOTION IN THIS EXCITING CHAPTER OF "THE PROTO" SAGA! YOU DON'T WANT TO MISS THIS RICHLY DETAILED ISSUE, BROUGHT TO YOU HERE EXCLUSIVELY AT DOFANTASY.COM!