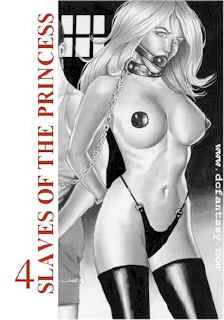 By Proctor Baldwin. Illustrated by Paul. PDF format.

IMPORTANT NOTICE - DISCLAIMER
All characters are 18 years old or older.
This is an entirely fictional work based on
fantasy characters for adult entertainment.
It shows no real people or events.
The characters are shown participating in
CONSENSUAL role-play for their own personal
satisfaction, simulating activities which involve
sexual dominance and submission.
No actual characters were harmed in the making
of this novel

In ENGLISH. Available electronically in PDF format. See bottom of page

This is the story of two slavegirl trainers who really enjoy their job. One is a sadistic lesbian. The other is a heterosexual male. They are both mean bastards, equally cruel in their different ways, who spend their days punishing their young charges until their lives become a kind of Hell on Earth.

The story is set in a huge palace in the Middle East where a selected bunch of slavegirls are kept prisoner to satisfy the varied erotic needs of the guests. The girls are the property of their mistress and owner, the Princess.

The story tells in explicit detail of their arrival at the palace, of how they are broken in like wild horses, how they are trained in sexual practices of all kinds and how their bodies are used to satisfy the fantasies of others,,, It is a story of mere living toys, playthings for the fantasies of the depraved.

This seldom-published book is a collector's item, an authentic jewel. Don't miss it!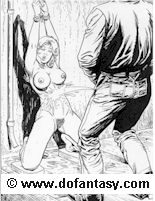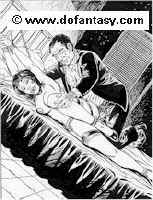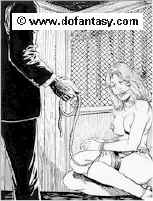 FROM THE BOOK:
The man span Katrin round on her ankle rope pivot, his hands on her hips. He stood behind her and took hold of her wrists and pulled her hands behind her back. She tried to resist but there was nothing to hang on to. She was helpless. In a moment a cool band of metal had snapped around each wrist and joined them together. She cried out. He turned her again so that she faced him. Katrin's free leg ached from pressing against her caught one. He squatted down on his haunches and looked into her face. His eyes glinted with relaxed, sardonic amusement. He frightened her. He was a monster.
He reached into his jacket pocket and took something out. He opened his hand and showed the object to her. It was narrow and black and polished, like the handle of a knife. His fingers moved, and a blade slicked open, flashing in the sunlight. Katrin cried out. A great tremor went through her body. But the man simply reached forward and grasped her pretty white and pink bra between her breasts, slipped the blade under the material and sliced through it. He reached behind her back and pulled the bra away from her body. With two quick movements he cut the shoulder straps and the lacerated little garment fell to the ground, leaving her breasts naked. Her hands were manacled behind her back. She couldn't cover her breasts. They shone, dazzling white in the bright sun. She cried out again...
Katrin, all but naked, screamed. She looked up the bare expanses of her own flesh and screamed. She jerked her body and twisted and flailed her free leg at him. He stood back and watched her. He was grinning. 'A screamer,' he said. 'I like a screamer.' He was a monster.
He disappeared from sight for a moment. She watched his white clad legs walk away between the plants. She was spinning slowly. The native girls were still there, kneeling, bare-breasted. Her own breasts were naked, her bare tummy was white in the sunlight. She was covered in perspiration. Her head hung downwards towards the grass, her hair heavy, pulling on her head.
The white trousers returned. The monster stood beside her...