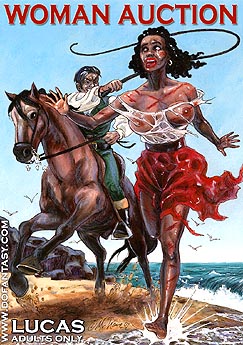 New in English!!!
by LUCAS
Illustrated by PAUL
Cover by Mr KANE

HIGH RESOLUTION PDF deluxe edition
193 pages beautifully illustrated by PAUL

IMPORTANT NOTICE - DISCLAIMER
All characters are 18 years old or older.
This is an entirely fictional work based on
fantasy characters for adult entertainment.
It shows no real people or events.
The characters are shown participating in
CONSENSUAL role-play for their own personal
satisfaction, simulating activities which involve
sexual dominance and submission.
No actual characters were harmed in the making
of this novel

In WOMAN AUCTION Lucas continues his landmark exploration of sexual slavery, its humiliations and its extraordinary variety of sexual and psychological mistreatment.

WOMAN AUCTION is classic Lucas, a tale told at breakneck speed that takes us through a kaleidoscope of erotic images and obscure emotions.

The action revolves around two separate stories.

In the first story a woman trains her own step-daughter, now a shapely 19-year-old, as a slave for her own use and for the girl's father.

In the second, a group of high-ranking military officers get in touch with White Inc, an international agency specializing in white slavery. They offer White Inc a contract to train the four women of their private fantasies.

The lives of the four unfortunate women turn into an humiliating nightmare. Something not to miss...

This novel has more than thirty exciting illustrations.

FROM THE BOOK:

He urged the horse a little nearer. It was such a magnificent sight he wanted to be as close as possible!

The girl was still wearing the tattered remnants of the short white dress she had been wearing when she ran out of the hut that same morning. She was running barefoot and her legs were beautiful, her buttocks, half-visible and half-covered, were working hard, her thighs were muscular and her breasts had an exciting bounce and wobble...

White was impressed, as always, by what terror could do. Women ran and ran, and this one was running more than any he had ever seen. He gritted his teeth as he imagined how good she would be in bed. He would need all his strength when he got this one back!

He spurred on the horse and brought a terrible lash down onto the girl's back, tearing off half her dress. Nelly fell headlong onto the sand, but leapt up immediately and started running in the opposite direction. White followed her. The dress was hanging from her waist now. Her naked back was tempting, but he preferred to aim lower down...

Nelly screamed and put her hands on her buttocks as the whip came down onto both cheeks at the same time. The whip clung to her skin for a second before falling and taking with it the remains of her dress.

She kept on running. It crossed her mind that she might have a heart attack, but she did not mind. It would be a way out of this nightmare, she thought, and she ran faster.

It crossed White's mind too, that he might have a heart attack, as he fixed his eyes on the girl's bottom and bouncing breasts. He did not mind either... It was the best way to go.

He could not take his eyes off the struggling calves, the rounded athletic thighs, the jerking buttocks, the firm hips, the slim waist, the bounce and swing of the splendid high breasts... Yes... she would be a perfect fuck!

FROM THE BOOK:

"What do you think of my little purchase?" he asks.

Maria smiles weakly, but says nothing. She looks the girl carefully up and down, mildly pleased at the posture which reminds her of a bow of respect.

"Well?" Herrera asks. He turns to Maria, but she too has her eyes fixed on the generous swelling breasts, swinging and wobbling with the girl. She too has seen nothing like them…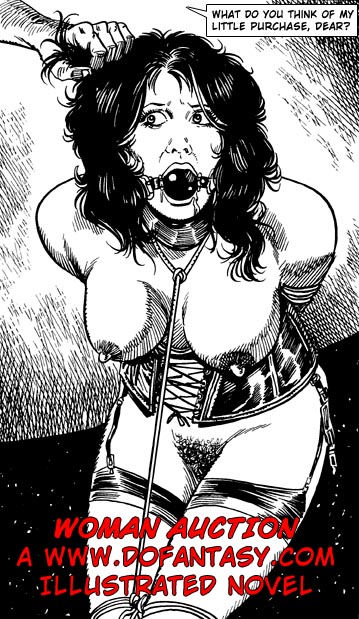 "Yes, you're right dear. The slut looks pretty good."
"Maria and I are getting married next week," he explains to a disconcerted Teresa, who has a look on her face like that of a schoolboy who hands in unfinished homework. "I need her approval, you understand. She has to get to know you. Quite well, actually."
Maria stretches out a hand, Teresa supposes to shake hands with her, but the hand moves softly over her breasts, stroking them with two fingers…
It circles round her right nipple, moving slowly in, and begins to stroke it…
Maria licks her fingers and moves on to the other nipple. She wets it and blows on it, watching it wrinkle and stick provocatively out…
"She's very sensitive," she says, "look at that!" Her husband is already looking.
"Never seen anything like it," he says, slapping his slave on the buttocks. "Highly strung filly, raring to go. Cunt wet as hell probably!"
"They're all randy. They can't get enough of it!" she says, lifting Teresa's face by the chin to study her reaction to her comments.
"I'm going to leave you two alone for a bit. Give you a chance to get to know each other. If we're all going to live together it's a good opportunity for you to find out more about her," the General says to his wife.
Maria shows her husband to the door and puts the bolt across. She takes her rather common printed dress off and stands naked in front of Teresa.
"Let's get one thing clear. I don't give a fuck one way or another about your Colonel. You can keep him."
Teresa closes her eyes. Is the woman mad?
"Do you know why I put up with him?"
Teresa shakes her head.
"You don't?" Maria's nail scratches the soft aurora around the nipples…
"I'll tell you then. I'm going to marry him because we have one thing in common. It's important to have a hobby. I like women, and women are expensive. The guy's got money."
She lifts the girl's chin again and looks into her eyes.
Maria slaps her face hard, with the front and back of her hand, hard enough to bring tears to her eyes.
"Don't look at me like that, you big-titted cow! You're the only slut here, so drop that lady style!"
Teresa drops her gaze to the floor. She feels deeply humiliated, tied up and offering her breasts to this dreadful common woman.
"I like men too," Maria explains. "But I'm not keen on your Colonel." She thrust her fingers deep between Teresa's buttocks, causing the girl to jump and nearly lose balance.
Her other hand continues the exploration. It is a strong, rough hand and it goes everywhere.
She leans forwards and whispers in Teresa's ear. "You've got a big pair here…" She sinks her nails into a breast.
"Mmmmmmhhhhhh…!" she murmurs, appreciatively.
The fingers dig in deeper, and the other hand moves up to the other breast.
Teresa grimaces as the woman squeezes her breasts.
"I'm going to tell you something. I'm beginning to like you, slut. You turn me on! You're making me all drippy between the legs…"
NOT TO BE MISSED!