THE AUTHOR
For many years Allan Aldiss has been one the most popular and prolific writers of erotic fiction, specialising in stories of respectable Western women, in both past and present times, being degradingly incarcerated in harems under the supervision of strict black eunuchs.
We are lucky to be now able to start offering his stories to our clients especially as they are now being illustrated by EU Inocenncius, our own equally erotic artist. Aldiss and EU Inocenncius have come together to make a uniquely arousing combination.
Fully illustrated with sixteen stunning drawings by EU Inocenncius this is one story you simply can't afford to miss!
THE BOOK
Readers of Allan Aldiss's various series of erotic books will be familiar with his stories of a beautiful young married woman, Emma. She is in thrall to a ruthless rich lesbian, Ursula, who employs a brute of a black Haitian, Sabhu, to control her girls.

This new story, however, is quite different, for Emma is sold by her Mistress to an Arab slave dealer who operates in a remote country where white women are deliberately denigrated by being treated as animals – human cattle.

Moreover, whereas in the past Emma often had no idea just what was going to be done to her, especially when it came to being sponsored by a eager client for forced breeding, this story is again very different. This time Emma describes vividly how she knows only too well just what is in store for her and how she knows that, kept helpless, she and her friend Samantha will have to go right through with it all – and in a strange and terrifying setting.

This story was considered so shocking that it had to be omitted from the original series of books written by Allan Aldiss. However, the story can now be told and as usual Allan has a gripping and highly arousing story to tell.

FROM THE BOOK
'Attention!' barked Sabhu. Hastily I stretched my fingers straight down and looked straight ahead, my ankles touching, my milk-laden breasts thrust out and my tummy sucked – like a soldier on parade. My heart was in my mouth as he silently ran the tip of his cane over my hips. He turned to the horrible little boy. 'Nice puppy bearing hips,' he commented. He ran his cane over my naked tummy. 'I expect this will soon be nicely curved again.'
________________
The horrible little Mokid, dog whip raised threatenly, led me like on a lead like a dog, muzzled and with my manacles clanking, past the line of cages that I knew so well. I gasped as I saw that the bellies of the blond girls kneeling up in the first three cages were all well curved, and particularly that of the girl in cage No 3.
________________

Naked, chained, muzzled and manacled, I kept Keeping mmy eyes fixed on the wall of my cage, but, I noticed, out of the corner of my eye, a fat, grey bearded man, in Moorish robes, looking me closely at my naked, chained muzzled and manacled body, through the bars of my cage. Standing proudly behind him stood Sabhu and Ursula, both carrying their dreaded canes. I blushed with shame as I heard him exclaim: 'Very nice indeed!'
________________
Having felt Samantha's breast, the big, fat, slave dealer reach forward to feel mine. I saw Sabhu raise his whip as if warning me, and obediently I pressed my breast into the dealer's podgy hands. 'Nice and firm,' commented the dealer. 'And still in milk.' A jet of milk squirted out. 'Yes, Madam likes keep girls in milk after they deliver progeny,' said Sabhu proudly, as the dealer felt my nipples that had been specially elongated by Sabhu's vacuum pump.
________________
Looking in the mirror I gasped in horror. Not only had an ugly, heavy, black iron slave ring been welded round my neck, but I had been nose-ringed like a pig - with a big brass ring hanging down from my nostrils over my mouth. A pig! Were we Christian white women being deliberately nose-ringed to denigrate us further in the eyes of our future Masters? My God!
________________
Helpless with my gloved hands fastened to my thighs and coffled by my nose-ring, I watched with horror as one of the girls, screaming with fear, was swayed up like an animal, her head and legs dangling and then lowered down into the steamer's hold. Oh my God, I was thinking, in a few minutes time that is what is going to happen to me, too. I also thought about the still beautiful older woman and her daughter, both chained behind me. How dreadful for them, too! Will they both be used for breeding? çMounted on donkeys and cracking their whips behind our bare bottoms, the black eunuchs drove us, ten naked blond white women of different ages with three of us pregnant, running in step, our elbows held back and our swaying breasts thrust forward, towards the white compound. My heart sank as I saw that it was surrounded by a high wall with an electrified fence. There would be no escape!
________________
I was horrified to find that here white women are treated simply as prize "white cattle" and used for the sport of breeding, as the men have plenty of pretty Arab girls for their harems and black girls to work as field slaves. Many buyers came to look and feel us, raising our milk-laden breasts –for we had not been milked that morning-as if they were judging the udders of a cow. Muted, held helpless by our nose-rings and with our hands in immobilizing gloves, we had to submit to these denigrating examinations as if we were animals. It was horrible.
________________
Muted and prevented by my nose ring from looking down, I felt the revoltingly fat Caid running his hands over my hips as if assessing my breeding capability. He put a question to the slave dealer, who ordered: 'Position Two!' Hastily we bent our knees. The black eunuchs lifted up our little leather aprons and parted our beauty lips. Nervously I got ready. 'Perform!' came the order. Seconds later, two little torrents jetted out shamefully between the eunuchs' fingers. Satisfied, the Caid nodded. We had been leased to the Caid.
________________
In no time, wearing similar boots and identical, but numbered headpieces, we were put in with the other white human brood bitches. I gasped as I saw an aroused human stallion hound peering eagerly at us. Was he the sire of the progeny that these human brood bitches were carrying? Were the younger human bitches, gambling about like puppies, waiting to be covered? Were white girls, for their first maternities, used as brood bitches before being promoting to the ranks of human carriage horses or brood mares, or to heifers and the human milking herd? How awful. How cruel! What a callous way to treat white women....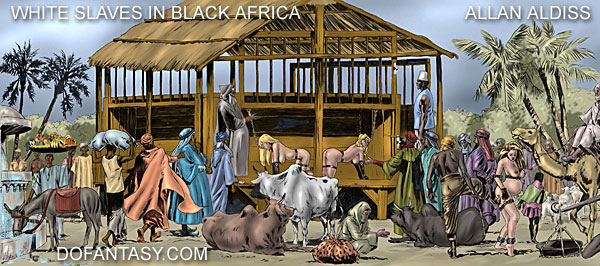 Unpublished Allan Aldiss illustrated story that you can't afford to miss!