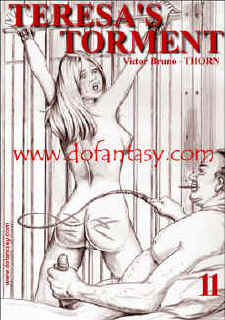 By Victor Bruno.
Illustrated by THORN. PDF format.

NEW - UNPUBLISHED illustrations by THORN

This book is the first of a series of four. This Saga tells the misfortunes of a young Spanish blonde called Teresa who is handed over by her own brother to one of his creditors.

In ENGLISH. Available electronically in PDF format. See bottom of page
THE BOOK:
Colonel Garcia Valmira is a Spanish gentleman whose extreme wealth enables him to indulge his bizarre sexual tastes - without limit or restraint. To this end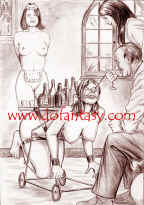 he has established a secret ranch or 'estancia' in a remote part of the desolate 'Gran Chaco' district of the Argentine. Its name is "Los Limitas" and here he keeps some forty or fifty desirable young women in a state of captivity and the most complete servitude.
A recent arrival at "Los Limitas" is a ravishing young twenty-year-old blonde-haired girl by the name of Teresa Mendoza. Reserved, shy, naturally modest, she is horrified to find herself in such an extraordinary establishment owned body and soul by as a slave by Colonel Garcia Valmira. However she has to face the fact that it is so ... although she suffers cruelly at Judith Somerton's hands before she finally begins to admit defeat and submit both physically and mentally to what is demanded of her.
A new guest has arrived at "Los Limitas". Her name is Janina Casal a black-haired, vivacious natured, young women of the same age as Teresa. She is a favoured friend of the Colonel and, in her teens, grew up with Teresa. With the same kind of upper class background they were good friends until they fell out over a young man by the name of Carlos Estanza. Originally the friend and lover of Janina he switched his affections to Teresa and became her first and only lover. Furious at being jilted thus Janina never forgave Teresa and continued to nurse a burning hatred for the girl.
Janina is unaware of Teresa's presence as a slave at "Los Limitas". Equally Teresa is unaware that Janina has arrived for a stay of several weeks at the 'estancia'...
This is another masterly tale by Bruno. The sudden change of roles of the two girls make this story one of the most interesting by this author. Plenty of sadistic revenge and psychological punishment.
The Illustrations by THORN are a 'must buy'.

FROM THE BOOK:
Janina Casal lit a cigarette, drew on it, then expelled the smoke slowly. It trickled from between her red lips and down her nostrils. Her dark eyes glinted, as she looked down on the naked figure of Teresa who was kneeling erect on a low wooden stool with her hands clasped at the back of her neck. The iron pear-gag was still firmly and cruelly in place.
'I never thought such a thing would happen ... could happen ...' said Janina softly and with evil relish. 'But it has. You ... YOU ... of all people, Teresa ... are my slave. I couldn't have thought of anyone better if I'd tried. After what you did to me back in Madrid, you little bitch. After you stole Carlos from me. As you did, you harlot!'
...
'Slave ...' she said softly, almost to herself it seemed. 'It implies so much. Complete submission and absolute obedience. I shall have both from you, Teresa.' She paused, twirling her glass, 'One day, when the Colonel has finished with you here, I may well ask him if I can buy you from him. I rather think I should like to own you. Permanently I mean. We shall see. It will give you something to think about anyway.'
...
Then she rose, unfastened the short housecoat and slipped it off. Beneath she wore only a brief bra and panty set of the same scarlet colour as her boots. Her figure, smaller than Teresa's, was excellent - a true "pocket Venus". She stood legs a little astride, hands on hips, before Teresa.
'Carlos had me many times, before he met you,' she said calmly, 'I allowed him to do so because I wanted to marry him and thus possess him completely. For my own reasons - apart from his wealth. I did not enjoy him; certainly not as you did, I know. For... you may not be aware of the fact that I do not particularly care for men in that way. I tolerate them in bed but I do not particularly enjoy them; my true pleasures lie elsewhere. They always have done to some degree ... and increasingly so in recent years.' Janina smiled and took a step closer to Teresa. 'Am I beginning to make myself clear, Slave?' she asked.
An added look of dread terror had now come into Teresa's eyes: she looked both desperate and disbelieving.
'In case it is not quite clear to you,' added Janina, 'I will leave you in no doubt, Teresa. I am a Lesbian ...'
Once again Teresa swayed on the stool, shaking her head incredulously.
Janina's smile widened. 'You understand now, my slave, in what capacity you will serve me, do you not?'