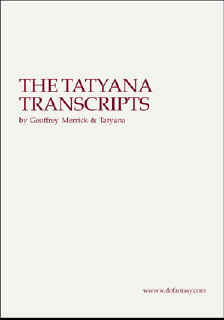 New in English!!!
The Tatyana Transcripts

by GEOFFREY MERRICK
and hot new author TATYANA
(This novel is not illustrated)

IMPORTANT NOTICE - DISCLAIMER
All characters are 18 years old or older.
This is an entirely fictional work based on
cartoon characters for adult entertainment.
It shows no real people or events.
The characters are shown participating in
CONSENSUAL role-play for their own
personal satisfaction, simulating activities
which involve sexual dominance and
submission. No actual toons were harmed
in the making of this comic.

Geoffrey Merrick has been widely proclaimed as one of the best writers of bondage fiction in the history of the genre, and even legendary. His sold-out Tyler: Memoirs of a White Slaver novels are treasured by their collectors, and his sizzling new fiction (including The Legacy and The Electrician) has been celebrated by novice and veteran fans alike.
Now, what would happen if an equally talented, but far more rare, FEMALE author collaborated with him on an exciting original story of abduction and captivity?
The result would be The Tatyana Transcripts.
Tatyana is a young, bold new writer who loves Merrick's tales of normal, pretty girls kept bound and gagged just out of sight. She is also the voice of the poor young woman forced to write her own experiences at the hand of her captor -- while Merrick is the voice of the man who stalked her, took her, and keeps her locked in his attic so they can describe what happened ... just for you.
FROM THE BOOK:
A shaft of late afternoon sunlight comes through the small oval window set high on the eave of the small, residential, Cape Cod-style house. It rests in an oval beam on a heavy wooden table set just five feet away. In the circle of light is a piece of paper, laying in a shallow plastic tray to keep it from sliding. At the very edge of the illumination a pen slowly scratches....
The hand that holds the pen is lovely, even elegant, with well-shaped fingers and red-painted nails. These fingers are almost porcelain-colored since they hold the pen so tightly, each movement careful and purposeful, as if writing with great, almost monumental effort. The hand is pressed to the table top as if straining. Just at its base, the writer's small, even dainty wrist is tightly shackled, and chained to the nearest table leg....
Stepping back from the shaft of light one can see an extraordinarily beautiful and eerie sight. A young, fit, vital girl of no more than 21 years, with long, naturally curling dark hair and shining green-gray eyes sits achingly in a heavy wooden chair.
Sinking into her facial cheeks is a block of curved leather that is strapped tightly behind her head. The way her jaw is positioned it is obvious that this brick of leather is holding in a prod that fills her mouth, rendering her all but mute save for low moans of effort.
Her other arm is wrenched high up her back, tied there with a network of rope that grips her shoulders and crosses her heaving chest. Those fingers reach fervently, then bind into trembling fists, then reach again.
Her legs are wide, her big toes barely touching the cold attic floor, her ankles lashed to the seat legs just above where they are bolted down. Her knees are also lashed, both to the top of the chair legs as well as the base of the chair arms. The well-toned muscles of the shapely legs bunch and spasm every few moments as if the girl is trying to close her legs with all her remaining might....
And of course she would be, for, in addition to her moans and the pained scritching of the laboring pen, the other noise in the room is a humming, whirring sound. Shifting one's gaze, you could just make out the bases of the intrusions she is seated upon ... which are grinding deep inside her....
Her body strains forward, held back by the ropes encircling her waist to the thick chair back, but driven there by the threat of far worse if she does not. Her breasts bulge in the barely containing half-cups of the cruelly tightened satin and lace corset, which molds her already impressive shape even more severely.
She writes for a time — each dot a painful press — and then slumps miserably, her eyes pleading to the ceiling or wall or floor. Then the man leans forward to see what she has written, one hand moving casually to her hair or chest — absently stroking or gripping or massaging there as if it were the most natural thing in the world ... while his other hand pointedly taps on the small device in his palm ... the one that controls the speed and movements of the thing inside her....
This is the image that greeted me when I viewed the videotape that accompanied the following manuscript. Like the Tyler: Memoirs of a White Slaver manuscripts before it, this was left on my doorstep. The video went on to show the man berating or chastising the bound and gagged girl for poor punctuation, inaccurate memory, or all-too-obvious attempts to elicit mercy.
And each time he would press the button and the dildo and/or butt-plug would surge up another quarter-inch, or spin a bit more, or scratch in a different direction. He, too, would all but descend upon her, suckling her throat, slobbering her face, and grinding her chest. And after each time, the laborious, pointed, and painful correction would take place — the girl's throbbing hand and body struggling to make each and every marking....
As she fell back, gasping or weeping or both, he would move quickly forward and write fervently on his own. He would then force her to read what he wrote — his fist in her luxuriant mane — and then her literary torment would continue....
The following are the words that they wrote. I cannot include the stains that marked the manuscript, but I can guarantee that this was written, in tandem, by a criminal and his female captive, one after the other, over a period of many days — recalling the specifics of their experiences.
The first words are from the abductor. The words in italics are written by the victim. As you read them, please try to remember what I wrote in the very first Tyler Memoir introduction: "If you become bored, pretend it is real. If you become excited, pretend it is fake."
And now, "The Tatyana Transcripts," exactly as they were left for me...