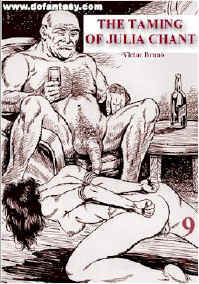 BY Victor Bruno. PDF format.
NEW - UNPUBLISHED illustrations by Paul
Mr. Quentin Osman is a middle-aged American millionaire. He has commissioned white slavers to break in a stunning beauty for use as his plaything. The victim is 28 years old Julia Chant - a beautiful, arrogant English lady. We follow Julia as she begins her painful, humiliating and endless training sessions to prepare her to be Osman's slavegirl.
The revenge of the pot-bellied old lecher will be second to none. And the hideous life of the young beauty will turn into a horrendous nightmare of humiliation and physical punishment.
This is an all-time classic. One of the best SM books ever written. You'll read it again and again.
Not to be missed!!!
IMPORTANT NOTICE - DISCLAIMER
All characters are 18 years old or older.
This is an entirely fictional work based on
fantasy characters for adult entertainment.
It shows no real people or events.
The characters are shown participating in
CONSENSUAL role-play for their own personal
satisfaction, simulating activities which involve
sexual dominance and submission.
No actual characters were harmed in the making
of this novel.
FROM THE BOOK:
Naked, on her belly, nose to the floor. Julia came crawling ... groveling ... across the carpet of the cabin.
Equally naked, piggy eyes gleaming with lust, Mr. Quentin Osman looked down at the figure inching forward. He was lying on a pile of pillows on one of the bunks.
'I believe you've got something to say to me, slave?' he said thickly.
'Yes, Master,' replied Julia in a low voice.
'Well then ... '
Julia knelt erect. Her splendid, full breasts thrust forward as she clasped her hands at the back of her head. The customary, now so familiar pose. The pose of a slavegirl.
'Master,' she said, 'your slave ... begs ... begs the honor of ... of kissing your ar... arse... arsehole ... '
Quentin almost burst out laughing. How incredible to hear such words coming from Julia! The same Julia who had slapped his face, even if she thought he was getting only slightly out of line. Oh yes ... .it was quite incredible!
What wonders had been worked ...
He feasted his eyes on the lovely body. All mine ... all mine ... he kept saying to himself. I can do whatever I like with her. Any time. She's mine ... mine! I own her body and soul. Yes ... this is my slave!
Somehow Quentin controlled his glee. But it bubbled away inside him, mixing with his surging sadism and his raging lust.
'Indeed,' he grinned, rolling over on the bunk ... to expose fat, flabby white buttocks. 'I think I might grant that honor, slave ... '
'Thank you, Master,' said Julia in the same low, controlled tones.
'Just as a beginning, mark you,' said Quentin. 'After that I can set about finding out just how well you've been trained, my beauty.'
'Yes, Master ... ' replied Julia.
She went down on hands and knees and crawled slowly towards the bunk.
A new chapter in her life of servitude was about to begin...
You'll be anxious to read the second part: Julia Chant, enslaved.
The Taming of Julia is the sequel to Naked Cargo. Also in this collection