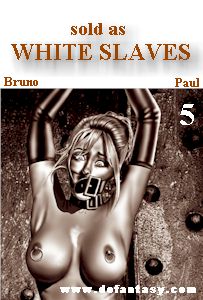 By Victor Bruno. Illustrated by Paul. PDF format.
This exciting sequel to the much-acclaimed 'WHITE SLAVES' is set in the years just before the Civil War. At that time thousands of slavegirls were used by their owners as 'bed comforters', or as living playthings, humiliated and subjected to all kinds of physical abuse.
And not all of them were negresses...
In this episode Edward Monson continues with his plans to use society beauty Mrs. Gordon-Bradshaw as a Pony Girl. And young Suzanne Delacroix in an even more perverted and disgusting way!!!
But Mr Monson's sadism is insatiable. He finds he needs more young, white flesh to work out his criminal fantasies on. So he attends a Slave Auction...
Not to be missed!!!
FROM THE BOOK:
Edward turned to the special section at the end of the catalogue... and saw that four white women were to be sold.
'LOT NO 65 LAVINIA SHRIVER (Miss), daughter of Mr and Mrs James Shriver (now both deceased). Being sold on behalf of her guardian, Mrs Goldstein. Aged 20. A very attractive, well-educated young lady with considerable spirit. It is considered she will need firm training. Auburn hair, hazel eyes, aquiline features. Height 5' 7". Bust 36", Waist 24", Hips 37". Highly recommended to the discerning Owner, male or female.'
Edward liked the sound of that much more. A young woman of spirit... in need of firm training... yes... yes. She might make an interesting addition to the household.
'LOT NO 67 DEBORAH GLANVILLE (Miss), daughter of Mrs Glanville (now resident in England), was affianced to Mr Lyndon Chambers. Aged 23. A splendid specimen of young womanhood. Good features, superb figure, tall and strong. Fit for hard work but could undertake many other duties... after training. Long fair hair, blue/green eyes, a Junoesque body. Height 5' 10 1/2". Bust 40", Waist 27", Hips 42". A tall, well-made woman, most excellently proportioned... one of the finest we have yet been able to offer. We recommend her highly but warn you that her price will be high.'
Edward found his nerves tingling. This was JUST the kind of woman he was looking for to team up with Mandy-Lou. Not only was she an obvious good-looker but the measurements of the two closely approximated. In fact, their hip measurements matched. In his mind's eye, Edward saw a gleaming black bottom alongside a silky-smooth white one. An equally voluptuous pair! Yes... it looked as if he was on the verge of forming a really first-rate team. An Equipage that even Emma Arbuthnot would envy.
This edition is completely new and illustrated by dofantasy artist Paul.