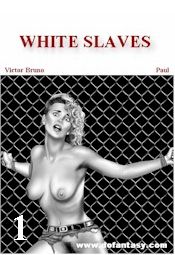 By Victor Bruno. Illustrated by Paul. PDF format.
This exciting story was first published as 'Southern Comfort'. It is set in the years just before the Civil War when thousands of slavegirls were used by their owners as 'bed comforters'.
And not all of them were negresses...
This is the case of society beauty Mrs. Gordon-Bradshaw who wakes up one day to find herself nude and tied to the shafts of her mistress's (her former rival) carriage. And she was being groped obscenely by her hated neighbor Edward Monsom...!
Or young Sue, whose parents died and who has been sold to the highest bidder to pay her family debts...
The book is a wonderful story of humiliation, suffering and delighting... It depends on who's telling the story.
In ENGLISH. Available electronically in PDF format. See bottom of page




FROM THE BOOK:
Edward slapped that flesh. "Steady!" he warned, just as if Nellie were one of his mares. It was nice to know that it was actually the flesh of the Honorable Mrs. Gordon-Bradshaw he was slapping. A woman whose hand he had once kissed; one he had bowed to; shown respect to. Those days were over. This was now a slave. A Pony. Edward returned to the front of the shafts and squeezed Nellie's right breast in an absent-minded way.
"Well made..." he murmured, almost to himself.
Nellie whimpered and shied again. Oh the shame and misery in those dark eyes! Edward saw that she was dribbling profusely. Not very lady-like. Still, she wasn't a lady any more, was she?
"Steady!" he repeated. Then added: "Or I'll take a crop to you." Nellie shuddered violently. She knows I can, if I wish, thought Edward pleasurably. Doubtless he would before long, too.
"Open!" he ordered
Nellie's mouth opened reluctantly. The cruel bit cutting into the sides of her mouth was very evident. There was indeed a lot of saliva about in the pink interior. Nice, strong teeth, he thought.
"Close," he said. The mouth closed. Nellie whimpered again. She was not having a very nice time, he reckoned. Edward looked down and studied the depilated mound of Venus with its attendant pink sex lips. Made more prominent, it seemed by the undercutting of the divided strap. Unhurriedly, delicately, Edward ran a finger up between those sex lips... and now Nellie whimpered more loudly and bucked even more violently.
"Whoa there!" called Edward, "You're far too frisky, girl! You need exercise."
This edition is completely new and
illustrated by Dofantasy artist Paul