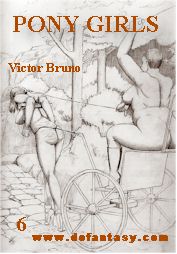 By Victor Bruno. Original Illustrations. PDF format.
Pony Girls is second to none. It's a classic.
You should read it even if you're not into the Pony scene. It is a masterpiece on humiliation, brutality, forced sex and, of course, Pony Girl action.
Wonderful.
In ENGLISH. Available electronically in PDF format. See bottom of page
FROM THE BOOK:
"You will learn to obey here, Pony," I said. "And learn quickly, that is for your own good. You will only suffer more if you don't. I think you know that already, yes?"
The blonde head tossed, she whinnied. At that moment, it seemed to me that she was coming along quite nicely. In a few weeks she would have to learn to walk, to trot, to canter. And, maybe by then, to gallop. It was a pleasing reflection.
I unfastened her lead ring from the ring on the stable wall, then led her through into the Tack Room. Turning on a spotlight, I focused it onto her curving form. The legs looked beautifully straight; the hindquarters were thrusting well. And the slanting weals I had just put on took on a more vivid hue.
The belt of my riding breeches came away. In a matter of moments I was naked from the waist down. I removed my shirt and stood quite nude. It was a nice, basic, animal-like feeling to be like that amidst the smell of straw and stable.
Earthy!
Lusty!
My loins suddenly seemed to be glowing. I felt myself swelling, then stiffening. It was a wonderful sensation.
There, right before me, were the curving hindquarters. White. Soft. Trembling almost imperceptibly. The Pony's hindquarters.
Mine to enjoy.
With a hard bond of flesh swinging before me. I moved forward and took the girl by her flanks. She gasped, but made no attempt to resist. Harem-training would have taught her the futility of that!
Easily, almost casually, I pulled her thighs apart.
A pause ...
A positioning ...
Then I thrust into her.
Easily ...
Deliciously ...
Oh my God, she felt good!
What a marvelous moment that is. The first penetration.
Hearing her sobbing gasp. Feeling her shudder. Knowing that she is hideously aware that she has been captured and invaded once again. And that there is nothing ... absolutely nothing ... she can do about it.
Clasping the girl's flanks tighter, I settled down to a steady rhythm...