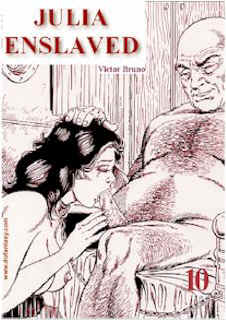 By Victor Bruno. Illustrated by PAUL. PDF format.
NEW - UNPUBLISHED illustrations.
This book is a sequel to those volumes entitled NAKED CARGO and THE TAMING OF JULIA CHANT.
MPORTANT NOTICE - DISCLAIMER
All characters are 18 years old or older.
This is an entirely fictional work based on
fantasy characters for adult entertainment.
It shows no real people or events.
The characters are shown participating in
CONSENSUAL role-play for their own personal
satisfaction, simulating activities which involve
sexual dominance and submission.
No actual characters were harmed in the making
of this novel

THE NOVEL:
Quentin Osman, a rich, middle-aged man, has sent a proud, lovely and arrogant beauty, named Julia Chant, to serve aboard the 'Paradise'. This is a vessel owned by a certain Madame Vesta and it sails the remoter regions of the Pacific Ocean with a cargo of beautiful slavegirls. The object is for Julia to be tamed and trained to become a submissive plaything for Quentin Osman's personal pleasure.
Several dozen young women, with similar backgrounds to Julia, are simultaneously undergoing such cruel and degrading training. Maybe they have been unfaithful to a protector; perhaps they have resisted his demands.
Now, because their protectors are rich and powerful, these women are suffering for their previous behaviour.
Quentin Osman knows this full well, for he has spent some time aboard the 'Paradise' as the guest of Madame Vesta. He considers it a place eminently suitable for the arrogant and wayward Julia. The fees he has to pay are high but he considers every penny well spent if he can ensure the required changes in Julia's character and behaviour.
Julia spends several months aboard the 'Paradise' - months that are hideously humiliating and painful. These months have been described in 'THE TAMING OF JULIA'.
Ultimately, Madame Vesta considers her fully broken and ready to serve her owner, Quentin Osman, as his personal slavegirl. She summons him to return to the 'Paradise' - to take possession of his property.
After undertaking the first steps of his well planned revenge and after using her as his sexual toy, Quentin announces Julia his imminent weeding with Glenda Heine...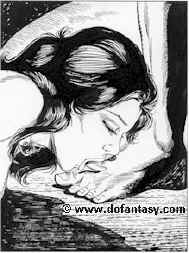 FROM THE BOOK:
"NOT BAD... NOT bad at all..."
It was Glenda who spoke. At her feet knelt Julia in the required slave posture, with hands clasped at the back of the neck, back straight, thighs splayed.
"I am glad you approve," said Quentin, smiling down possessively. Julia looked no different, he thought, except that possibly her features were more set in a mask-like mould of control.
Glenda raised a bare foot and jabbed at one of Julia's breasts with a toe. "Good boobs," she said.
"Yes," nodded Quentin, "and an excellent backside too."
"I haven't studied that yet," said Glenda.
"Show your Mistress, slave," ordered Quentin sharply. It was a delight to be able to show Julia off in this way to another woman.
***
The new husband turned to the new wife. "Well," he asked, "is it O.K. by you if we share her as a personal slave? Take her back with us?"
"I think so," answered Glenda. "But I am not yet quite sure."
"You mean, perhaps, you'd like Julia to service you first, before you make up your mind?"
"That's right," answered Glenda.
Both knew, of course, that Julia was not a lesbian. Also, as had been reported by Miss Judith - who had recently given her some training in the practices - she had a very natural revulsion for them. Something, which has already been said, pleased Glenda, who had always wanted an unwilling girl.
She unbuttoned her white dressing gown and let it slip to the floor. Her body was hard, smooth and white. Small breasts, large nipples, flat bottom, slim limbs. A well-preserved body.
"This is the body you will have to serve, Julia," said Glenda.
"Y-Yes, Mistress," whispered Julia, her eyes flickering, her nervous tic returning.
Now, thought Quentin, the strain is really on.
"Serve.. and please, Julia..."
"Yes... Mistress..."
"You have some training, I believe?"
"Only... only a l-little Mistress... Miss J-Judith... she..."
"Alright," said Glenda, raising a hand. "What you don't know, I shall teach you." Glenda turned and slid down on her back on top of the bed. "But first, let us start by seeing what you do know."
Quentin watched fascinated as Julia stood up and moved to the bed.
Glenda's limbs parted and Julia's dark head slip between them. He say her white shoulders heaving and realised she was sobbing. The effort of will she was having to make to submit to this final degradation was bringing her near snapping point. He saw Glenda grip the dark head of thick hair.
"Start by just using your lips, slave" she said. Eyes bright with desire and cruelty, she smiled up at Quentin....
You'll be anxious to read the next sequel to this incredible saga: Julia in Captivity.
This book (Julia Enslaved) is the sequel to Naked Cargo and The Taming of Julia. Also in this collection.