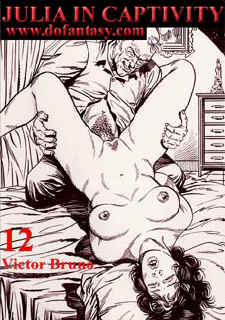 By Victor Bruno. Illustrated by PAUL. PDF format.
NEW - UNPUBLISHED illustrations.
This book is a sequel to those volumes entitled NAKED CARGO, THE TAMING OF JULIA CHANT and JULIA ENSLAVED.
Now is time for old bastard Quentin Osman to bring home young and lovely Julia Chant... as his sexual slave!!!
Along with the society beauty, comes Melissa, another stunningly beautiful young lady also enslaved on board of The Paradise.
In the meantime, Harvers, an extremely dangerous and sadistic criminal, converted Quentin's mansion in a terrible dungeon for the two lovely prisoners.
NOT TO BE MISSED!!!
In ENGLISH. Available electronically in PDF format. See bottom of page
FROM THE BOOK:
Glenda carried both instruments from the Punishment Room and placed them on a table in the centre room of the slave quarters. Somehow she did not wish the stark practicality of the Punishment Room but preferred ordinary, comfortable surroundings. The contrast pleased her. Then she entered the girls' bedroom.
Julia was alone and at once knelt erect.
"Where's Melissa?" demanded Glenda.
"With ... with my Master, Mistress," replied Julia at once.
"Don't call me 'Mistress' in future," said Glenda sharply. "It is a word which had connotations I do not care for! You will call me 'Ma'am'. Got it?"
"Yes ... Ma'am ..." replied Julia at once.
She had been waiting with some apprehension ever since Melissa had been taken away by Quentin - with Havers in attendance - to the Playroom. Why had she not been taken with her? Poor Melissa. She would have to service both those pigs. One at a time was bad enough. What would be happening at that moment? Her mind shrank away. (Melissa, in fact, was having to use her mouth and tongue - alternately on Quentin and Havers - in a variety of disgusting ways).
"I've got a bone to pick with you, my girl ..." Glenda's harsh voice broke in on Julia's mental wandering.
"Yes, Ma'am?" she said meekly.
Glenda stepped up close to the girl and stared into her eyes. Julia flinched.
"You were once the Mistress of my husband, I believe?" Julia's features twitched. "Yes ... Ma'am ..."
Coming soon: Julia in Captivity II. The next sequel to this exciting saga.
Julia in Captivity is the sequel to
Julia Enslaved, The Taming of Julia and Naked Cargo.
Also in this collection.