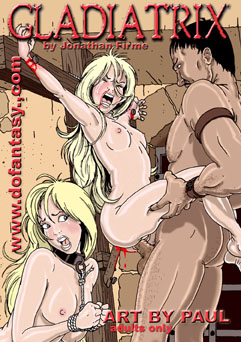 New in English!!!
by Jonathan Firme
de luxe edition

130 pages. Cover: ROBERTS.
Illustrated by PAUL
This book has no background color. It prints easier.

In ENGLISH. Available electronically in PDF format. See bottom of page

Set in the final days of the Roman Empire, Gladiatrix is a fast-moving tale of how Flavia, a Roman noblewoman, is sold by her own brother to a desert tribesman.

The tribesman keeps her locked up and submits her to all kinds of sexual abuse. Flavia is a shy girl. Her "Master" soon notices this. He makes her stand naked in front of him, touching herself. He makes her do this at a private banquet too, and again in the main square of the village, in front of everyone, villagers and Roman soldiers…

The rules are explained to the excited crowd. Flavia has to finish, but she is not allowed to use her hands... If she does not finish, she will be tied to a revolving circular platform with her legs wide apart. She will then be beaten on whatever part of the body the crowd decide…

Flavia's "Master" has a School of Gladiators and decides to train women. His women fight naked and are an immediate success. Rome too will see Flavia's naked body.

One night the village is attacked by desert nomads. Mysterious, primitive men with unsmiling faces, piercing eyes, and a strange habit of pouring liquid honey into their prisoners before abusing them… As a prisoner in their desert hideaway, Flavia learns more about the nature of sexual abuse. But she also becomes skilled in the use of their long, curved knives.

In the final section of this gripping book, Flavia is taken to Rome, sold as a slave once again, and fights in the Coliseum itself. Armed only with a net and a curved sword she fights hand to hand, breast to breast, naked body against naked body…

Watch your fantasies come to life in this exciting, highly erotic tale!
GLADIATRIX ENGLISH VERSION Only in electronic PDF format

Price 19.99Euro
FROM THE BOOK:
The Coliseum was packed.
There was a fanfare of trumpets as the two girls entered from opposite sides of the stadium.
They were both clothed in the same way, in a light tunic that covered all the body from the neck to the ankles.
It was specially designed to fit tight against the body above the waist.
Two large holes had been cut for the breasts.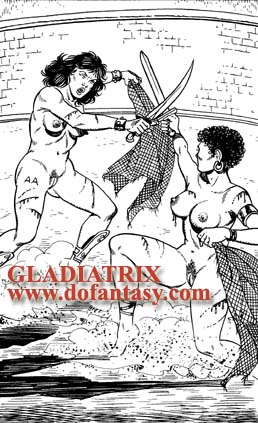 Flavia's opponent, an African girl, looked strong and athletic. Her breasts showed dark and firm against the white tunic…
But all eyes were on Flavia, whose breasts, always superb, looked about to burst through the holes in the dress.
The two girls walked solemnly towards the centre, step by step. The African girl breasts gave a muscular ripple with each step. Flavia's breasts heaved, came down slowly and wobbled…
There was not a limp member or a dry lip in all the Coliseum…
It was a difficult moment for Flavia. She was Roman. She knew many of the people in the crowd, she was sure…
Her brother and his stupid plotting wife would be there. She recognized the African girl. She was part of the team Glaucus had given her brother in exchange for herself! How could a brother do that?
When the girls reached the centre of the arena they saluted Senator Marcus Aurelius.
The Senator gave the signal for the girls to take their tunics off.
The African girl slipped out of hers. Flavia had to pull to get her breast back through the holes. The girls stood naked, arms by their sides, facing the Senator.
There was a strange silence. A wave of something erotic, something deep and sensual and mysterious swept through the stands and silenced vulgar tongues. It was a respectful silence.
Servants came in carrying the weapons. Each girl had a net and a sword. They had been allowed to choose one piece of metal protection. The African girl had chosen an arm-piece that fitted over her biceps. Flavia had chosen a shin protector. There had been no other options...
A murmur of excitement travelled round the stadium as the two girls checked their nets, folding them carefully and getting the feel of them… Neither of them liked the nets. They were especially small, so that they would not cover the girls' bodies when they were fighting, and they had no weights on them, which made it difficult to throw them…
There was a murmur of speculation about why Flavia, a Roman, was holding a curved sword.
Trumpets sounded and the Senator gave a signal. The two girls faced each other like two erect cobras, swinging hypnotically to get the feel of their legs and to check the other's reactions to subtle changes in direction…
Each swing set the girls' breasts in movement…
Each sidestep sent a ripple up their strong thighs and gave the crowd a view of their open vaginas…
For some time the girls circled round each other.
It was a perfect show…
GLADIATRIX ENGLISH VERSION Only in electronic PDF format

Price 19.99Euro