Use our On-Line 100% Secure EncryptedShopping Cart Ordering System. Simply browse
our site and Click the ADD TO SHOPPING CART buttons to place items in your Shopping Cart
[ HOME ] [ COMICS ] [ MOVIES ] [ NOVELS ] [ CD-ROM ] [ Order info ] [ Help ] [ ARTIST SITES ] [ SEARCH ]
[ Disclaimer ] [ CATALOGUE ] [ Copyright ]
ROMAN CRUELTY & DECADENCE #8 by DAMIAN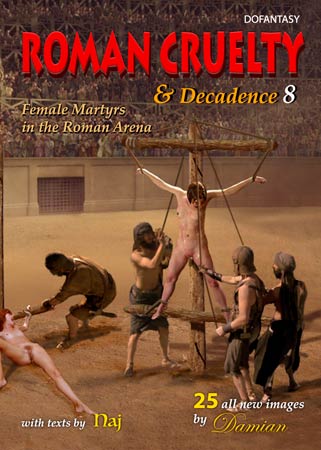 NEW IN PDF ELECTRONIC VERSION! Adult Album by DAMIAN. Shocking texts by NAJ.
HIGH RESOLUTION PDF deluxe edition.
25 full color pages!!!
-COMPLETE, UNABRIDGED VERSION-

CHRISTIAN VIRGINS ARE TURNED INTO VIRGIN MARTYRS ONCE THE ROMANS GET A HOLD OF THEM!
ROMAN CRUELTY AND DECADENCE TRULY KNOWS NO END WHEN INNOCENT, CHRISTIAN GIRLS ARE DEFLOWERED RIGHT IN THE COLISEUM!
IMPORTANT NOTICE - DISCLAIMER
All characters are 18 years old or older. This is an entirely fictional work based on cartoon characters for adult entertainment. It shows no real people or events. The characters are shown participating in CONSENSUAL role-play for their own personal satisfaction, simulating activities which involve sexual dominance and submission. No actual toons were harmed in the making of this comic.
Rome was not known as a kind place. It was bad enough being a captured slavegirl, taken far from home and forced to serve and service the cruel and perverted Roman masters and mistresses. But even that was not the worst punishment and torment inflicted on poor, innocent, young girls. When the Christian purges began, few were safe. Honest, virgin girls who dedicated their lives and their chastity to Christ were dragged out of their homes and crucified, naked and exposed, for the mobís entertainment in the coliseum. Even those who did not profess devotion to Christ were takenÖ betrayed by jealous neighbors or jilted lovers.
Even though Rome was not known as a gentle empire, some of the punishments meted out by the emperor on these poor, young girls sickened even the bloodthirsty Romans! The girls would scream and beg and plead for their lives. They would do whatever it took to satisfy their Roman captors, but even this would not be enough. Those who did not please could always look forward to a future as lion food!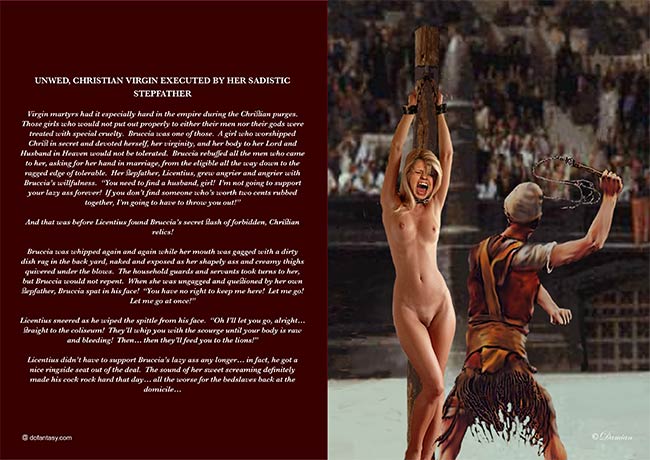 DAMIAN PRESENTS A SHOCKING NEW SAGA WITHIN HIS ďROMAN CRUELTY AND DECADENCEĒ SERIES! ITíS BAD ENOUGH TO BE A CAPTURED SLAVEGIRL, BUT ITíS A LUXURY COMPARED TO THE POOR, CHRISTIAN, VIRGIN MARTYRS. THINGS WILL GET BAD BEFORE THE END, AND THESE SLUTS WILL BE SCREAMING AND SCREAMING RIGHT UNTIL THE END! YOU DONíT WANT TO MISS EVERY INCH OF THIS HARD BONDAGE ACTION, BROUGHT TO YOU HERE EXCLUSIVELY AT DOFANTASY.COM!!
THE BEST DAMIAN!