Use our On-Line 100% Secure EncryptedShopping Cart Ordering System. Simply browse
our site and Click the ADD TO SHOPPING CART buttons to place items in your Shopping Cart
[ HOME ] [ COMICS ] [ MOVIES ] [ NOVELS ] [ CD-ROM ] [ Order info ] [ Help ] [ ARTIST SITES ] [ SEARCH ]
[ Disclaimer ] [ CATALOGUE ] [ Copyright ]
SOLD TO SLAVERY IN AN ORIENTAL WORLD #2 by DAMIAN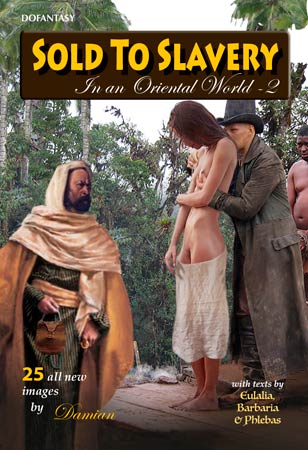 NEW IN PDF ELECTRONIC VERSION! Adult Album by DAMIAN. Shocking texts by Eulalia, Barbaria & Phlebas.
HIGH RESOLUTION PDF deluxe edition.
25 full color pages!!!
-COMPLETE, UNABRIDGED VERSION-
SLAVER AFRICA IS A HARD ENOUGH PLACE FOR COLONISTS AND BLACK FOLK, BUT IT'S EVEN HARDER FOR WHITE WOMEN WHO FOUND THEMSELVES ON THE WRONG SIDE OF THE WHIP

IT WAS BAD ENOUGH THAT THESE HELPLESS GIRLS WERE BOUGHT AND SOLD NEXT TO THE AFRICAN SLAVE TRADE, BUT WHEN THEY FIND THEMSELVES SLAVES ON THE PIRATE SHIPS OR IN THE HAREMS OF THE ARAB SHEIKS, THAT'S WHEN THEY'LL REALLY SCREAM!
IMPORTANT NOTICE - DISCLAIMER
All characters are 18 years old or older. This is an entirely fictional work based on cartoon characters for adult entertainment. It shows no real people or events. The characters are shown participating in CONSENSUAL role-play for their own personal satisfaction, simulating activities which involve sexual dominance and submission. No actual toons were harmed in the making of this comic.
Damian is a master of the darkest arts as he shows you a crazed and insane world full of hard and horny slavers all too happy to take and break an uppity, white, missionary woman. You might be surprised how little a missionary's daughter cares about the "spirit of Christ" when her own flesh is on the line and headed to market! These white women think that their English blood and their civilized ways will protect them, but they'll learn the hard way that nobody in the darkest parts of slaver Africa cares what they think, and their new Arab masters will care even less…
You should keep your head down and mind your tongue, girlie… or else you'll be next on the chopping block!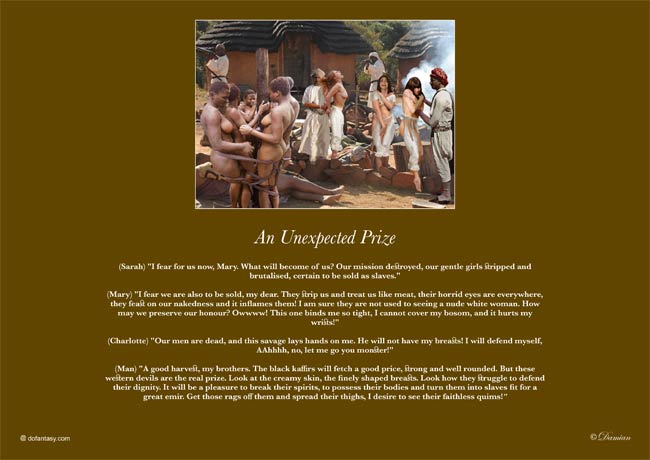 DAMIAN'S SOLD INTO SLAVERY SERIES DEVOLVES INTO AN EVEN DARKER WORLD IN THIS SHOCKING AND HORRIFYING ISSUE! YOU WON'T BELIEVE WHAT YOU SEE IN THESE PAGES! IT WOULD BE BAD ENOUGH JUST TO BEAR WITNESS TO ONE ACT OF PERVERTED SADISM AND COLD CRUELTY, BUT THIS COMIC IS JAM PACKED WITH THE HARDEST AND SICKEST STUFF AROUND! THIS ISSUE IS NOT FOR THE FAINT OF HEART! BUT FOR THOSE WHO DARE, YOU WON'T FIND ANYTHING WORSE THAN IN THIS COMIC, BROUGHT TO YOU EXCLUSIVELY BY DOFANTASY.COM!
THE BEST DAMIAN!