Use our On-Line 100% Secure EncryptedShopping Cart Ordering System. Simply browse
our site and Click the ADD TO SHOPPING CART buttons to place items in your Shopping Cart
[ Disclaimer ] [ CATALOGUE ] [ Copyright ]
WITCH HUNTERS #7 by DAMIAN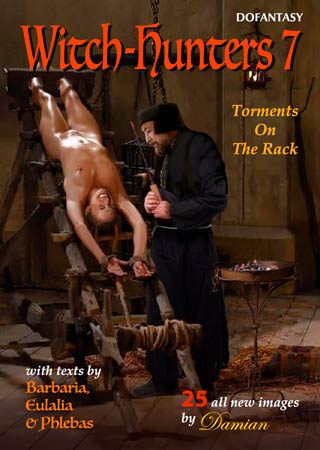 NEW IN PDF ELECTRONIC VERSION!
Adult Album by DAMIAN.
Shocking texts by BARBARIA, EULAIA & PHLEBAS
HIGH RESOLUTION PDF deluxe edition.
25 full color pages!!!
-COMPLETE, UNABRIDGED VERSION-
THE FEAR OF WITCHES EXTENDED EVEN AS FAR AS THE WILD HILLS OF SCOTLAND! NOBODY IS SAFE FROM THE SPITEFUL ACCUSATION OF WITCHCRAFT… ESPECIALLY NOT HELPLESS AND BEAUTIFUL YOUNG WOMEN!
IN THE TOWN OF DUNDOOM, A SCOTTISH KIRK SESSION IS ESTABLISHED TO SEPARATE THE INNOCENT FROM THE GUILTY. HOWEVER, ONLY RUMOR AND GRUDGES RULE THESE SHOW TRIALS!

IMPORTANT NOTICE - DISCLAIMER
All characters are 18 years old or older. This is an entirely fictional work based on cartoon characters for adult entertainment. It shows no real people or events. The characters are shown participating in CONSENSUAL role-play for their own personal satisfaction, simulating activities which involve sexual dominance and submission. No actual toons were harmed in the making of this comic.
in the early 17th century, when Scotland was still ruled by Presbyterian Protestantism, the faithful sought to remain in God's holy light by remaining pure and virtuous. However, when rumor spread of the dark taint sweeping across Europe, of witchcraft, sorcery, heresy, and vile, moonlight acts, even the distant realms of Scotland were not safe. Even close to Edinburgh, the hysteria of the time festered in open daylight. A Kirk Session, or ad hoc court done in God's name, was set up in the tiny town of Dundoom to separate the innocent from the guilty…

…unfortunately for the inhabitants of this town, guilt had nothing to do with witchcraft. There are deep and dark secrets in this town, secrets that many want to keep hidden away and safe… even if it requires turning in their fellow "sisters" in order to do it! The hysteria of the witch trials will reach even here as innocent girls are betrayed by their fellow women and tormented until they sweat, scream, and cream!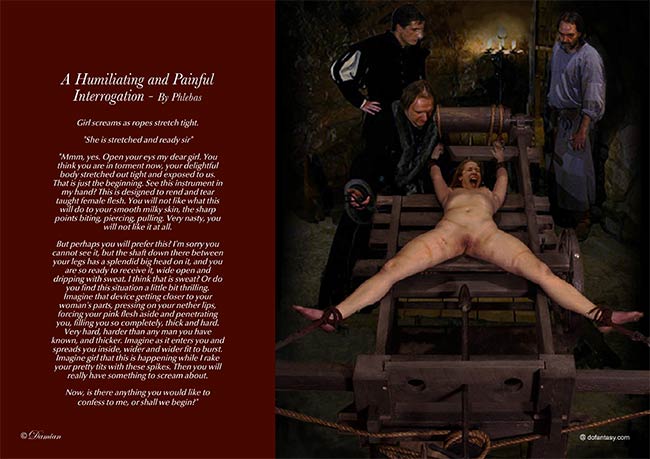 DAMIAN IS ONE OF THE GREATEST PORTRAYERS OF HISTORICAL BONDAGE AND SADISM! SET THIS TIME IN THE DARK, DANK, AND DAMP DUNGEONS OF THE SCOTTISH HIGHLANDS, THESE BEAUTIFUL BABES ARE SHOWN NO MERCY AS EVERY DARK AND DISGUSTING SECRET IS EXTRACTED FROM THEIR BOUNCING, BOUNTEOUS BODIES! THE SHOCKING HORRORS OF A SUPERSTITIOUS TIME ARE ON FULL DISPLAY IN THESE SICK AND TWISTED PAGES! YOU CAN'T LOOK AWAY, AND YOU CAN'T ESCAPE! YOU DON'T WANT TO MISS THIS AMAZING ISSUE, BROUGHT TO YOU HERE EXCLUSIVELY AT DOFANTASY.COM!
THE BEST DAMIAN!