Use our On-Line 100% Secure EncryptedShopping Cart Ordering System. Simply browse
our site and Click the ADD TO SHOPPING CART buttons to place items in your Shopping Cart
[ HOME ] [ COMICS ] [ MOVIES ] [ NOVELS ] [ CD-ROM ] [ Order info ] [ Help ] [ ARTIST SITES ] [ SEARCH ]
[ Disclaimer ] [ CATALOGUE ] [ Copyright ]
WITCH HUNTERS #6 by DAMIAN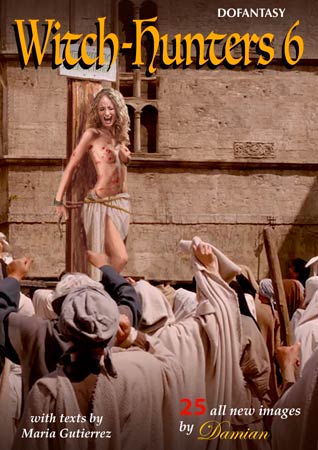 NEW IN PDF ELECTRONIC VERSION!
Adult Album by DAMIAN.
Shocking texts by MARIA GUTIERREZ
HIGH RESOLUTION PDF deluxe edition.
25 full color pages!!!
-COMPLETE, UNABRIDGED VERSION-
A MIDNIGHT REVELRY OF WOMANLY AFFECTIONS TURNS INTO A NIGHTMARISH TALE OF DUNGEON HORROR AND BONDAGE ENSLAVEMENT AS INNOCENT, LESBIAN LADIES ARE ACCUSED OF WITCHCRAFT!
MARRIED, MERCHANT MAID MARGUERITE SHOULD'VE KNOWN BETTER THAN TO PLAY WITH OTHER WOMEN IN THE DARK OF NIGHT! WHEN HER WEALTHY HUSBAND CAUGHT HER LEWD, MOONLIGHT ACTS, SHE AND ALL HER FRIENDS WERE DRAGGED IN FOR QUESTIONING!
IMPORTANT NOTICE - DISCLAIMER
All characters are 18 years old or older. This is an entirely fictional work based on cartoon characters for adult entertainment. It shows no real people or events. The characters are shown participating in CONSENSUAL role-play for their own personal satisfaction, simulating activities which involve sexual dominance and submission. No actual toons were harmed in the making of this comic.
The Middle Ages were a dark, sinister, and suspicious time full of ignorance and misunderstandings of the universe and the world at large. The church reigned supreme and had nigh absolute control not just of the earthly possessions of men and women but their very souls as well! Above all else, there was one thing that the church did not tolerate: women who expressed their natural, carnal desires, especially in the wholly "unnatural" act of loving other women!
It didn't take long. A merchant's wife, Marguerite was caught in the very carnal act that the church itself publicly detested but secretly desired: a midnight rendezvous with other, lesbian women! Her husband himself caught lovely Marguerite in the act, dancing and pleasuring themselves and each other shamelessly in the full light of the moon. Unfortunately for poor Marguerite and her lesbian lovers, this act was not seen as just shameful and humiliating when publicly exposed. Her sinful acts would condemn Marguerite and her lovers to the very depths of hell. It was not just a crime to love other women; it was a stain on the very soul itself! The church's reach would go far and wide to root out this corruption by root, stem, and leaf no matter how far it would go. Marguerite would not be the only one to suffer by the end… there would be others caught up in the whirlwind madness as well… whether they wanted to be or not!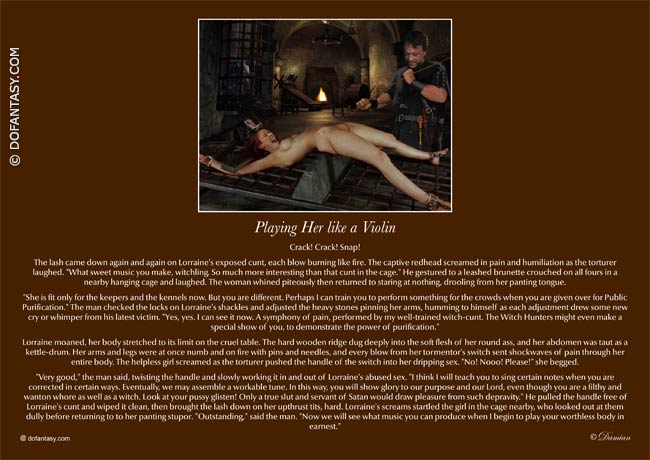 DAMIAN NEVER FAILS TO DELIVER IN THIS CLASSIC PIECE OF BIBLICAL BLASPHEMY AND CHRISTIAN CUNT BUSTING! THE PAIN AND HUMILIATION NEVER ENDS IN THE AMAZING "WITCH HUNTER" SERIES AS POWER MAD AND LUSTY LORDS RUN AMOK AND RUIN HELPLESS MAIDENS AND INNOCENT WOMEN! PROFOUNDLY SHOCKING, UNBELIEVABLY HORRIFYING, AND ABSOLUTELY ENGROSSING, YOU CAN'T EVEN IMAGINE THE DEPTHS OF GHASTLY DEPRAVITY THAT AWAIT WITHIN THESE PAGES! ONLY THE DEMENTED AND PERVERTED WOULD EVER FIND PLEASURE WITHIN THIS ISSUE! YOU MUST STAY AWAY IF ONLY FOR YOUR OWN MORAL GOOD!
BUT FOR THOSE WHO DARE, PREPARE YOURSELF AS YOU PEEL BACK THE COVER IN THIS LATEST, SADISTIC EXTRAVAGANZA, ONLY HERE, BROUGHT TO YOU EXCLUSIVELY AT DOFANTASY.COM!
THE BEST DAMIAN!