Use our On-Line 100% Secure EncryptedShopping Cart Ordering System. Simply browse
our site and Click the ADD TO SHOPPING CART buttons to place items in your Shopping Cart
[ HOME ] [ COMICS ] [ MOVIES ] [ NOVELS ] [ CD-ROM ] [ Order info ] [ Help ] [ ARTIST SITES ] [ SEARCH ]
[ Disclaimer ] [ CATALOGUE ] [ Copyright ]
ROMAN CRUELTY & DECADENCE #7 by DAMIAN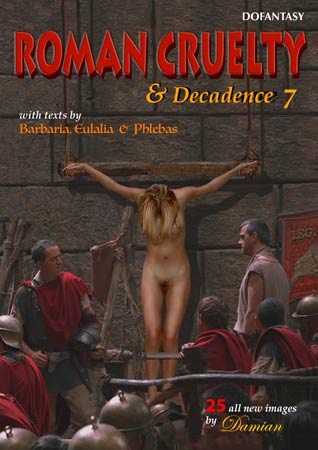 NEW IN PDF ELECTRONIC VERSION! Adult Album by DAMIAN. Shocking texts by Barbaria, Eulalia & Phlebas
HIGH RESOLUTION PDF deluxe edition.
25 full color pages!!!
-COMPLETE, UNABRIDGED VERSION-

EVEN IN THE DISEASED HEART OF ROME, PRETTY GIRLS ARE NOT SAFE, ESPECIALLY IF THEY'RE ALREADY SLAVES!
THE LIFE OF A FAIR MAIDEN IN A DARK ALLEY MEANS LITTLE TO ROMAN LUST AND BRUTALITY, BUT THE LIFE OF A CHEAP SLAVE GIRL IS WORTH EVEN LESS! A "CRIMINAL" SLAVE GIRL IS JUST AN EXCUSE FOR A BLOODY SHOW!
IMPORTANT NOTICE - DISCLAIMER
All characters are 18 years old or older. This is an entirely fictional work based on cartoon characters for adult entertainment. It shows no real people or events. The characters are shown participating in CONSENSUAL role-play for their own personal satisfaction, simulating activities which involve sexual dominance and submission. No actual toons were harmed in the making of this comic.
Even as Rome wrecked the tribal peoples of the north, the shattered empires of the east, and the rebel scum of proud belligerents, its own people were not safe from Roman desire and violence! Even if a girl was of an influential family, she was just curvaceous, female meat to the Roman soldiers and patrols of the night. These girls might hope to find justice if they survive their awful encounter with the centurions of the city. But there was another class of females who had no hope of justice or reprieve. The slave girls of the cities were treated no better than stray dogs or rats, taken and used whenever the people wanted. But things were worse when the desire turned to bloodlust…
After all, nobody would cry if a cheap, Thracian whore was accused of petty thievery, right? Her owners were probably tired of her anyway. She could beg and cry and plead all she wanted; she would be easily replaced with tighter meat while she was strung up to suffer on the crucifix, a writhing, wanton whore shamed and humiliated for all the people to see! And that was before they brought out the whip, or dumped the guilty in the coliseum for the crowd to watch…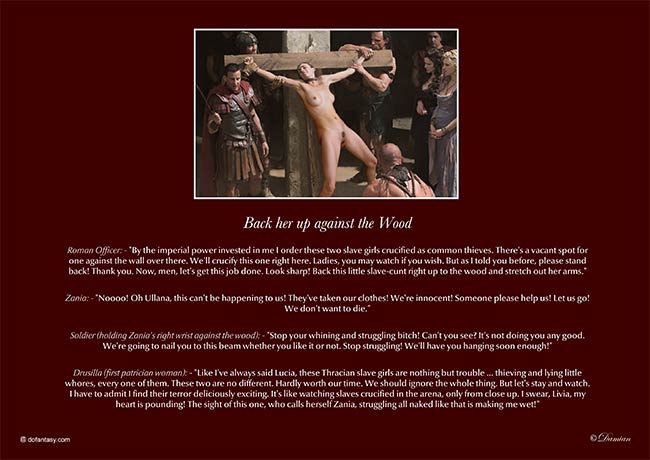 DAMIAN'S BLOODYTHIRSTY "ROMAN CRUELTY AND DECADENCE" SERIES CONTINUES UNABATED WITH ITS SHAMELESS HORROR AND DISGUSTING PERVERSITY IN THIS THRILLING CONTINUATION OF ANCIENT, FEMALE ABUSE! THE STORIES OF CALLOUS CRUELTY AND FEMALE SUFFERING NEVER CEASE TO SHOCK AND SICKEN! THIS LATEST TALE IS DEFINITELY NOT FOR THE FAINT OF HEART! IF YOU DARE TO PEEK INTO THIS FRIGHTENING WORLD, YOU WON'T BE ABLE TO TURN AWAY! DON'T MISS THIS EXCITING ISSUE, BROUGHT TO YOU HERE EXCLUSIVELY AT DOFANTASY.COM!
THE BEST DAMIAN!