Use our On-Line 100% Secure Encrypted Shopping Cart Ordering System. Simply browse
our site and Click the ADD TO SHOPPING CART buttons to place items in your Shopping Cart
[ HOME ] [ COMICS ] [ MOVIES ] [ NOVELS ] [ CD-ROM ] [ Order info ] [ Help ] [ ARTIST SITES ] [ SEARCH ]
[ Disclaimer ] [ CATALOGUE ] [ Copyright ]
FANSADOX ALBUM 4:
FLESH MARKET by MR. KANE'S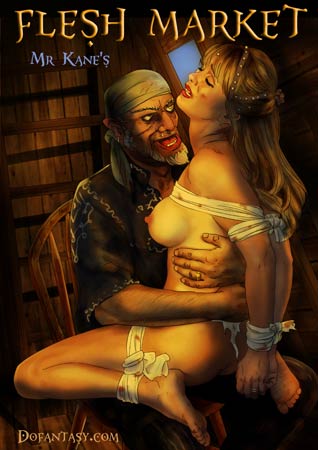 NEW IN PDF ELECTRONIC VERSION!

Adult ALBUM by Mr.KANE'S

HIGH RESOLUTION PDF deluxe edition.

39 great illustrations with hot texts!!!
-COMPLETE, UNABRIDGED VERSION-

IN A TIME OF HIGH SEAS ADVENTURE AND PIRACY, NEITHER THE RED SEA NOR THE MEDITERRANEAN SEA ARE SAFE HARBOR FOR PRETTY WOMEN!

ROYAL POLITICS AND INTRIGUE RULE THE DESERT SHORES OF ARABIA AND EGYPT. WHEN POWER IS AT STAKE, EVERY DIRTY AND UNDERHANDED MEANS WILL BE USED, EVEN IF IT MEANS ABUSING INNOCENT AND HELPLESS GIRLS!

IMPORTANT NOTICE - DISCLAIMER
All characters are 18 years old or older. This is an entirely fictional work based on cartoon characters for adult entertainment. It shows no real people or events. The characters are shown participating in CONSENSUAL role-play for their own personal satisfaction, simulating activities which involve sexual dominance and submission. No actual toons were harmed in the making of this comic.

Note: material available at BDSMartwork.com


Power resides where men believe it to reside. In one kingdom, the old Pacha lay dying on his deathbed, and his son is preparing to gain control of his father's dynasty. While the son consolidates his rule, the girls of the harem and the exotic dancers of the court must work to their utmost to maintain the new ruler's favor, lest they be cast aside and sold in the flesh markets… or worse… Some will be kept as favored pets and concubines of the new ruler. Others… well, their fate will not be so fortunate…

At the same time, across the oceans, pirates of the dirtiest and foulest kind find unguarded villages to raid and willful, female rivals to enslave! Christian or Moorish, it made no difference; a Christian or Moorish pussy serves a pirate's member well enough! Not even traders cogs nor a noblewoman's ship are safe from the scourge of piracy and slavery, as another uppity, young princess will learn to her despair!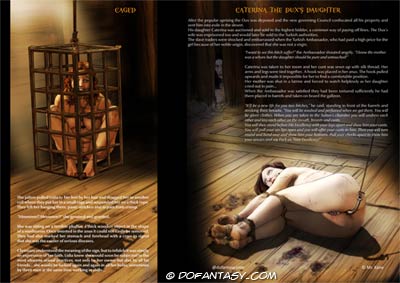 And even in Egypt there is no reprieve from the lusts and sadism of dark and wicked masters! Deposed, Nubian kings want power too, and power comes with many perks. Along the watchtowers of a renegade empire, soldiers will fight for their rightful lord. But soldiers have hungers too, violent and wicked hungers indeed...

In these three worlds, women will come to learn their new place as used and abused sex slaves to their cruel and wicked masters. They will descend from a favored place to one lower than low, lower than the pigs or the rats in the holds or cellars of captains or kings. Even the distant shores of Europe are no safety for these poor and helpless women as they will soon find out as they suffer under the brutal lick of the whip… or endure the pounding and porking of their holes!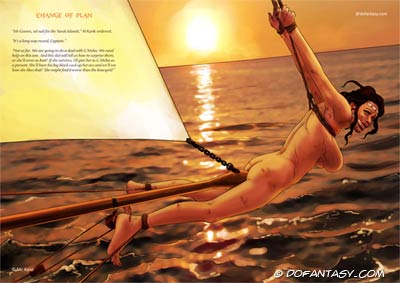 MR. KANE CREATES AN EPIC ADVENTURE DEEP IN THE RECESSES OF THE HIDDEN HISTORY OF THE MIDDLE AGES! BENEATH THE PALLOR OF COURTLY INTRIGUE LIES A DARK AND PERVERTED WORLD OF RUINED WOMEN AND ABUSED SLAVE GIRLS! THERE IS NO INDIGNITY TOO FOUL OR TORMENT TOO CRUEL FOR THESE HELPLESS, HUMILIATED, AND POWERLESS WOMEN! THE QUESTION ISN'T WHETHER THEY WILL LOSE… THE QUESTION IS HOW FAR WILL THEY FALL?

YOU DON'T WANT TO MISS THIS ACTION PACKED AND SHOCKING ISSUE, BROUGHT TO YOU HERE EXCLUSIVELY AT DOFANTASY.COM!

MR.KANE'S NOW AT DOFANTASY!