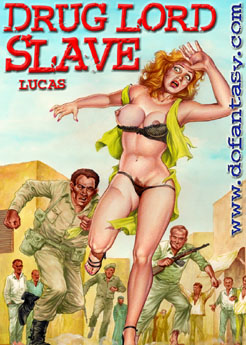 New in English!!!
by LUCAS
Illustrated by PAUL

HIGH RESOLUTION PDF deluxe edition
165 pages beautifully illustrated by Paul

IMPORTANT NOTICE - DISCLAIMER
All characters are 18 years old or older.
This is an entirely fictional work based on
cartoon characters for adult entertainment.
It shows no real people or events.
The characters are shown participating in
CONSENSUAL role-play for their own
personal satisfaction, simulating activities
which involve sexual dominance and
submission. No actual toons were harmed
in the making of this comic.
THE NOVEL:
Lucia receives a distressing letter from Uncle Raul in Colombia. He tells her that Sara, her daughter, has caught a tropical fever and is seriously ill. The young mother leaves everything and flies to a village deep in the Amazonian jungle.
She soon realises she has fallen into a trap. Raul, her childhood lover as well as her brother in law, has now her daughter in his power. The only way the mother can save her daughter is by giving Raul whatever he wants.
Raul has just come out of jail after twenty years. His character has not improved in prison. All the brute force and bitterness of his lost youth come to bear on Lucia's still young and beautiful body…
Raul is a bitter man. He remembers how Lucia escaped in an ambush and crossed the border with his brother, while he was left injured to be arrested. He remembers how she had a relationship with his brother… He hates her and will humiliate her. And he will be subtle. He will punish her mind as well as her body.
This novel is a journey to the dark side of the human mind. It peels off layers of hatred, revenge and lust as it takes us to the depths of the human mind.
It also takes us deep into Raul's psychotic mind as he blames all his misfortunes on his childhood lover.... He'll ask mother and daughter to perform the most intimate acts for him. In front of each other. On each other…