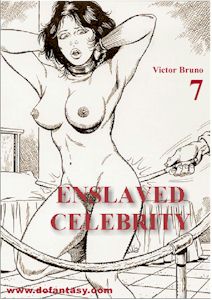 By Victor Bruno.
Illustrated by PAUL

First published as Persuasion (English) and Prisionera de su Enemigo (Spanish) this particular novel is one of the most captivating ever written by Bruno. Just read the first lines of the story to get into the plot...

In ENGLISH. Available electronically in PDF format. See bottom of page
THE BOOK:
Lady Susan Melbury, aged 28, married into the English aristocracy ... and both beautiful and arrogant ... has been abducted by a gentleman with the name of Kaspar Montolive. He, of Turkish-Armenian abstraction, is a powerful figure in world finances, and immensely wealthy. His personal and private tastes are somewhat bizarre, for he keeps a small but most excellent 'harem', of captive young women. Each has been hand-picked for excellence of features and figure. Lady Susan has been forced to join this harem, for Kaspar Montolive is intent on gaining absolute revenge for the insults she heaped upon him (in front of other guests) when he was staying at the Melbury's country mansion.
FROM THE BOOK:
"Have you anything to ask, Your Ladyship?"
A choking sound came from Susan. She stopped licking. He saw her hands clawing into the carpet. What a struggle it was for her! That made it all the more delightful. He squeezed two fulsome breasts.
"Well?"
"M-may ... I ... may ... I m-mount you ... mmfff ... mmmffff ... M-master?" The voice came hoarsely. It sounded like that of another person.
Savouring the moment, Kaspar was in no hurry to answer. "I hope," he said at last, "that you are aware that it is an honour for a slave to service her Master?"
Susan's head was down; she continued to sob. Kaspar suddenly pulled her up by the hair and slapped her face hard. "Well - are you?"
Gasping, Susan jerked her head sideways. "Y-yerr ... esss ... y-yes ... Master ..." she choked out.
"Say it!"
Kaspar's lust was surging strongly. Soon this once-haughty bitch would be riding him. She would be using the cunt he now owned for his leisured enjoyment.
"A-ahh ... I ... ahh ... am honoured to ... to ... serve ... you ... Master," Susan managed.
"Service, slave!" rapped out Kaspar, slapping Susan's cheek again. Oh how marvellous it was do as he liked with this arrogant beauty!
"Honour ... honoured ... t-to s-service you, M-master..." Tears were streaming down Susan's reddened cheeks. Her shame at her own submission to this monster was as intense as her loathing for him.
As she came up off her knees, Kaspar closed his thighs and Susan straddled them. Clasping her breasts right before his face, he nuzzled them.
"Get that aristocratic cunt to work," he said thickly. Then he felt the lips ... Moving ... positioning ... Against his hard knob ...
Kaspar's hands moved to smooth flanks. He resisted the temptation to pull Susan down. She must impale herself 'voluntarily'. Yes ... yes ... she must do it herself. True submission!
Then, with a moan that became ever more intense until it was a gasping cry, Susan lowered herself onto the big hard bone of male sexuality. It was an exquisite sensation for Kaspar, even if Susan was not as warmly succulent as he would have wished. That was scarcely to be expected in view of her hideous reluctance. It was the sensation of possession which was so exquisite. He felt the soft buttocks on his thighs ... and the equally soft breasts against his chest.
"Now work your arse, my beauty!"
With a kind of frantic despair, Susan gripped Kaspar's shoulders and raised her haunches ... then, with a sobbing gasp, lowered them again. Her head was turned to one side, her teeth gritted. She felt sick with disgust for herself ...
...
Kaspar got up and went to the cabinet, from which he had originally fetched the switch. He returned with a number of items upon which Susan could not bring herself to look. She only knew too well she was a plaything in a game of monstrous evil being played at Kaspar's behest.
"A little treat for you, my pretty ..."
A three-inch wide leather belt was fastened around Susan's waist. A strap hung from the back of it, dangled down. There was something projecting from it.
"Legs astride!"
Susan, murmuring and shuddering - in terror - parted her legs a little. At once, the strap was pulled between and under them. The top of the projection arrived at her sex-lips. It was an eight-inch long, hard rubber dildo. Still Susan had not looked down. She dare not; yet she knew something awful was about to happen. She was trembling all over violently.
"Oh ... oh God ... what are you doing?"
"I told you - giving you a treat," replied Kaspar, suavely.
He slipped the top of the understrap through a buckle on the front of the belt... suddenly pushed the knob of the dildo into Susan's passage... then pulled on the strap. An awful wailing scream erupted from Susan, as, levered by the pull of the strap, the big solid dildo was forced up into her.
"A-A-AHH ... A-A-AGGGHHHHH ... NOOOOOO ... NOOOOOO ...
"Don't you like it, Your Ladyship?"
"U-U-UUUUUUGGGGGHHHHHHH ..."
"Walk ... walk around the room, slave!"
Susan, still emotionally shattered by the big object which had been thrust within her - and held there - was slow to obey the command. She wavered and swayed.
"P-please ... ooooh ... p-please ... no ... oooo ..."
In an instant, the long slim switch was in Kaspar's hands. It slashed across Susan's left flank, whipping round and biting into the buttock cheek...