Following on the success of Mr Kane's illustrated version of Book One of Allan Aldiss's popular classic, Barbary Slavedriver, we now offer you the even more erotic Book Two - together with another set of splendidly arousing drawings by Mr Kane. Even if you know the outline plot of this story, you will find it dramatically brought to life in many new and unexpected ways by Mr Kane's highly erotic drawings of white women in the hands not only of a leading slave dealer and breeder, but also in the even crueller hands of an Emir - and of an Egyptian plantation owner."
THE AUTHOR
For many years Allan Aldiss has been one the most popular and prolific writers of erotic fiction, specialising in stories of respectable Western women, in both past and present times, being degradingly incarcerated in harems under the supervision of strict black eunuchs.
We are lucky to be now able to start offering his stories to our clients especially as they are now being illustrated by Kane, our own equally erotic artist. Aldiss and Kane have come together to make a uniquely arousing combination.
Fully illustrated with sixteen stunning drawings by Mr Kane this is one story you simply can't afford to miss!
THE BOOK
Barbary Slavedriver is a recently enlarged, unexpurgated*, and re-edited version of the story of an English mother and daughter and young maidservant who during the Napoleonic Wars are captured by Barbary Pirates.
It is 1809 and the Napoleonic Wars have been rag­ing for some fifteen years and will continue for another six.
Rory Fitzgerald, late of His Britannic Majesty's Foot Guards, is now Hussein Bey and Commander of the Turkish Janissaries in Marsa, the only port in North Africa still under direct Turkish rule. He is enjoying the delights of his harem and of his inshore galliot that is pulled by captured European female galley slaves.
Meanwhile, an old flame of Rory's from London, the widowed Mrs Amanda Forsyth, had been captured off Gibraltar by Barbary Corsairs, financed by Hassan, the leading slave dealer in Tunis. She had been on her way to Sicily to join her betrothed, Colonel Forsyth of the 38th Foot, part of the British Army in Sicily.
Amanda was a strikingly attractive blond woman of thirty five, tall and buxom with a slender waist and dancing eyes.
Travelling with her was her pretty and vivacious daughter, Diana, scarcely more than a schoolgirl, whom Amanda was hoping to marry off soon. The family likeness between mother and daughter was strong, though Diana's figure was not yet so well developed. However, Amanda had thought that with her huge soft eyes and her long, honey coloured hair, she would soon melt the heart of many a young British subaltern in Sicily – and indeed of many a Sicilian aristocrat, too. But, she had been captured with her mother.
Also captured by the Corsairs was Amanda's pretty, red-haired, Scottish maidservant, Jeannie.
Although British citizens were supposed to be exempt from being enslaved the Barbary Corsairs, the three women were such a valuable catch that such mere technicalities were swept aside. They were, therefore, all taken to Hassan's school of love and slave breeding farm in Tunis.
The long established House of Hassan was proud of its tradition that all the white slave-girls it sold had been at least partially circumcised to increase their value – and, Amada, Diana and Jeannie were no exception.
The cruel Emir of Gondah had decided go on the Hajj in a year's time and had sent his chief black eunuch to Tunis to buy European slavegirls for his harem whom he would also take with him to sell on the journey to keep in funds. To avoid being struck down by water-borne diseases during the crowded Hajj, he had also decided to take his own supply of milk – milk from these white slavegirls whom he would previously have had covered by his Black Guards.
Makumo bought all three British women for his Master.
* Publisher's note: The printed version had to be consensual, greatly handicapping Allan Aldiss's ability to tell the story as he wished. This version is the story as originally conceived by the author."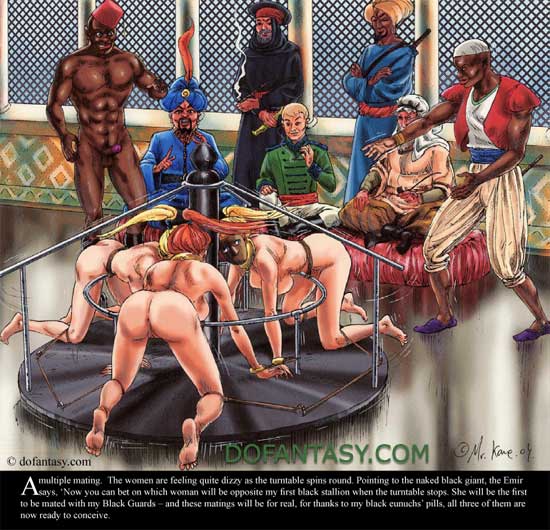 A beautifully illustrated story you can't afford to miss!