THE AUTHOR
For many years Allan Aldiss has been one the most popular and prolific writers of erotic fiction, specialising in stories of respectable Western women, in both past and present times, being degradingly incarcerated in harems under the supervision of strict black eunuchs.
We are lucky to be now able to start offering his stories to our clients especially as they are now being illustrated by Kane, our own equally erotic artist. Aldiss and Kane have come together to make a uniquely arousing combination.
Fully illustrated with sixteen stunning drawings by Mr Kane this is one story you simply can't afford to miss!
THE BOOK
Barbary Slavedriver is a recently enlarged, unexpurgated*, and re-edited version of the story of an English mother and daughter and young maidservant who during the Napoleonic Wars are captured by Barbary Pirates.
In Book 1 they are sold to a well known slave dealer who has them all circumcised in fascinatingly different ways. He then sells them secretly to the black eunuch of an Emir, who plans to make them submit them to forced breeding. But first they must perform before him and the mother has actually to arouse him with her tongue as he takes her daughter's virginity, whilst the maidservant has to attend on him in his Turkish-style toilet.
Meanwhile the hero of the Barbary series of stories, a renegade English Bey, is enjoying himself in his harem. On board his light galliot, pulled by his female galley slaves under the control of their black whipmaster, he reads with astonishment of the disappearance of the mother, who was his lover back in London. Little suspecting the truth of what has happened to her and to her daughter, he is sent on a mission to the Emir, their Master.
So plenty of scope here for some of Kane's best ever drawings and some of Allan Aldiss's most erotic writing - with more, much more, as the story continues in Book Two.
* Publisher's note: The printed version had to be consensual, greatly handicapping Allan Aldiss's ability to tell the story as he wished. This version is the story as originally conceived by the author."
FROM THE BOOK
Batra, the young eunuch, raised his cane. 'Out!' he ordered in his falsetto voice. He spoke in Arabic, using the words of command that she had been taught.
Nervously, but obediently, Amanda jumped out of the cage. She still did not dare to utter a word of protest.
'On all fours!' the boy ordered. Amanda dropped to her knees, her manacled leather mittens on the heavily carpeted floor.
Batra bent down and snapped a lead onto the ring at the front of her brass collar.
'Come!' he ordered, giving her curves a sharp tap as he led her over to the bed.
'Up!' he ordered. 'On your back!'
With a sob of despair, Amanda assumed the position she knew was required, the prone position that she had had to practice to these strange words of command: it meant lying on her back, with her arms straight down her sides and her wrist manacles lying across her thighs.
'Wriggle up below Master!' the boy ordered, giving her warning tap across her belly.
Closing her eyes in disgust and fear she wriggled up between the Emir's outstretched knees. She could smell his body, his maleness and his arousal.
'Eyes open!' screamed the boy angrily, bringing his whip again down across her belly.
Amanda looked up. Horrified, she saw that immediately above her eyes was her daughter's little glistening rosebud and, only an inch away from it, the Emir's proud manhood with the large testicles hanging down above her. Above these she glimpsed with disgust, just as Jeannie had earlier, the Emir's huge belly protruding between his magnificent robes.
'No! No!' she cried out, repelled and revolted.
Delighted, the Emir gave a laugh and looked down at the tear stained face between his legs and at the horrified eyes. Yes, whether she liked it or not, this beautiful woman was going to take part in the taking of her daughter's virginity. Her mental anguish made his manhood rise up even more strongly.
'Reach up and lick!' she heard Batra order. It was also an order she had to practice so often. The order she had so dreaded having to do for real. She hesitated and then heard herself scream as Batra brought his whip down across the unprotected soles of her feet. The Bastinado! It was she knew a favourite way for eunuchs to punish the women in their charge and to make them obey any order instantly.
Hastily she reached up with her tongue. It touched his body ...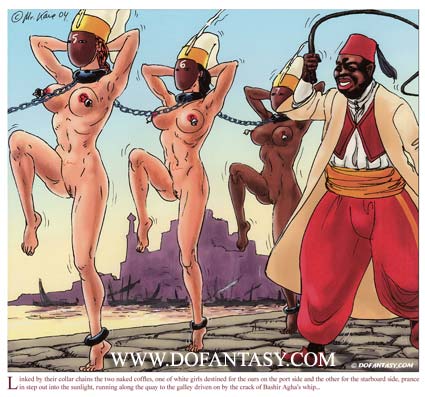 A beautifully illustrated story you can't afford to miss!